St. Alyre d'Arlanc
Here are a few pics of the village centre. Its a small village in a sheltered densely forested valley, 850 metres up in the mountains.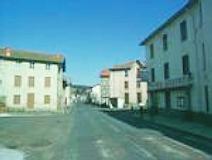 The first picture shows the building prior to its conversion by the LCO on the left. Unoccupied for more than twelve years, it needed considerable modification and renovation. You can see the work that has been carried out over the last year by clicking on the "Dreams to Reality" link in the left hand menu.
An original conversion was carried out in the 1950's to join two properties together, to create the 20 plus rooms that make up more than 325 sq meters of habitable space. Most required full restoration and redecoration. Floors at ground level needed replacing, Much work needed to be completed before the building was in a suitable condition to allow the computer and network infrastructure to be put into place.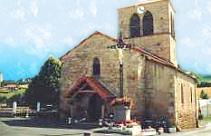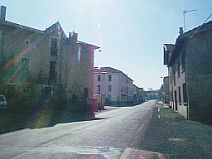 The picture above shows the village church set back from the main road. The picture to its right is taken looking along the road from the opposite direction, towards La Chaise Dieu, and shows the house on the right. Immediately opposite the LCO is the tiny church, behind which the LCO garden, a small plot of land where we grow fruit and vegetables is located about 50 metres away. On the other side of the square from the church and just across the road is the Relais Gaspard des Montagnes, the local pub/hotel and general store. so the LCO is right in the middle of all the village's centre of activity.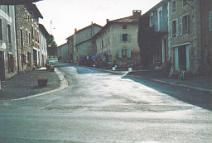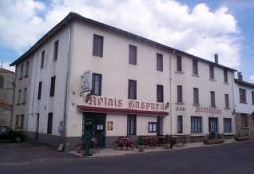 The picture to the left shows the road that leads to Brioude taken from just outside the LCO.
Below are more photos of the local surroundings, the first shows the houses along the road to Issoire out of the village towards the station on the scenic railway that passes through the Livradois-Forez natural park.
Others are of the local woodlands.

The Relais has people popping in all day long and is a lively centre of activity. However, there are always people about outside and everyone we meet is very friendly. There is a great deal of interest in the LCO Project from the local community. The Internet centre offers the local population a fast connection for email and web browsing.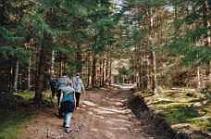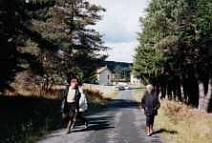 The village is the centre for the wild mushrooms that abound in the woods. Many delicious edible varieties are found from early spring right through to late autumn, and include Cepes, Chanterelles and Morilles.
Around 1000 tonnes are exported throughout France and around the world each year. Those not eaten fresh can be dried.
As the entire region is designated and maintained as a Natural Park and nature reserve, the countryside is a mix of carefully managed, dense pine and birch forests interspersed with open rolling countryside and small villages. Apart from a few local cheesemakers, beekeepers, timberyards and the occasional riding school, is largely unspoiled.