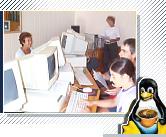 LCO-France
Workshops in GNU/Linux

Beginners

Intermediate

Advanced
HOW TO BOOK
Course Dates
and special offers
Prospectus
The Centre is designed to provide an environment condusive to supplementing existing IT skills levels, and increasing awareness of the principles of free/open-source software using the GNU/Linux operating system. It is geared towards groups of six to eight participants at one time, offering comfortable relaxed accommodation on Chambres d'hotes basis. Lunch and dinner, provided in the local licensed restaurant, offers a taste of the region's cuisine. The location provides clean mountain air, pure water and the opportunity to enjoy a healthy lifestyle.
Aimed primarily at, but not restricted to the UK market, workshops are conducted in the English language with special guest speakers attending on some of the more advanced workshops.
All workshops feature hands-on experience of the GNU/Linux desktop environment. Participants are assigned a personal workstation for the duration of their holiday.
Prices are shown in Euros, include accommodation and three meals per day in shared twin or double bedded room, training sessions, unlimited use of computer laboratories and use of Internet facilities and games machines.
Prices shown do NOT include travel to and from the Centre, as we appreciate that some guests will want to drive down and others may want to avail themselves of budget flights with,
BMI
,
Easyjet
, or
RyanAir
.
For those who want the convenience of their own transportation, economy car hire can be booked at the same time as flights.
Linux Coaching Organisation workshops are each of one week duration, and our program has been arranged so that certain workshops can be concatenated for those who wish to extend their stay to two weeks. Workshops are of three categories:- Beginner, Intermediate and Advanced.
Material covered in the Beginner and Intermediate workshops, conforms with requirements of the Linux Professional Institute (LPI)'s syllabus for exam levels 101 and 102.
Beginners
Prerequisites
As a "Beginner" you are expected to have a basic literacy in IT, i.e. Ability to use a keyboard, an understanding of file systems, and practical experience with some of the following types of software packages - word processing, graphic image manipulation, web browser, email client or spreadsheets.


 
Installing GNU/Linux
Help for beginners who wish to discover the advantages and benefits of GNU/Linux, in an environment where the system in in use 24/7.

Participants will install and configure a system ready for Desktop use.

Those bringing their own laptop will be assisted to establish a Linux operating system on their own machine. An ideal starter for those with little or no experience of GNU/Linux and who wish the capabilities of this Open-Source operating system for themselves. This one day course is included free-of-charge with any holiday stay of one week duration, booked at the LCO.
 
 
Fundamentals of GNU/Linux
This extensive beginners workshop provides a much broader understanding of the use of a GNU/Linux operating system, the principles, structure and capabilities of open source software. On completion, Delegates will be equipped with the knowledge required to comfortably navigate the system and to maintain, manipulate and update files and packages. This workshop covers elements included in the Linux Professional Institute's (LPI) Level One course.

You will learn how to:


Work with GNU/Linux Directory Structures.
Apply Security - Root, Users, Groups and Permissions.
Use Shell Commands - basics.
Set-up and use X-windows - KDE and other Desktop Managers.
Operate within a Multi-user and multi-tasking environment.
Utilise System Process Management.
Apply the basics of Networking and connect to remote systems.
Work with commonly used Linux applications and tools.
Manage File Systems and transfer information.
Log-in and how to set up User Accounts.
Realise the potentials and principles of free/open-source software.
Install and remove application packages.
Connect to External Devices - an overview.


During this workshop, participants will become familiar with all the most commonly needed aspects of fine tuning a GNU/Linux system. On completion they will be conversant with the information needed to deal with system management in each of the component areas detailed.


 
 
Migrating to Desktop Linux
This beginners level workshop is ideal for those who are considering a move away from proprietary systems and migration to a GNU/Linux system desktop for use either at home or in the workplace. It is suitable for end users, and for office administrators who wish to be better informed about the options and human issues that will arise.

By choice, and because we believe it is the best for the purpose, we conduct the workshop using the Novell/SuSE distribution. The major differences between alternate distributions will be pointed out so that delegates will be able to make an informed choice suited to their own particular needs.

You will learn about:


Open Source / and what Free Software means. A synopsis.
Exactly what is a GNU/Linux Distribution?
X-Windows and choices of desktop interface.
The Open Office tools.
Graphics applications and other available open source software.
Peripheral hardware - soundcards, printers, scanners, cameras, etc.
Connecting to the Internet and e-mail tools.
Samba - a tool to allow MS Windows and GNU/Linux to interface seamlessly.
Methods that allow cross-platforming of proprietary applications.
Using the Command line - where and how to find help on commands.
Directory infrastructure and file handling.
Updating, downloading and installing new software.
Networking and Security issues.


Often the biggest concerns we come across are:-
"What programs are available for the open source alternative?
"All my files are in Microsoft Word format... Will I still be able to read or change them if I switch to a different system?"
"Can I run any of my existing software under GNU/Linux?"

Such questions and more will be answered and throughout the Workshop, participants will be guided and gain hands-on experience using a GNU/Linux desktop.


 
Intermediate
Prerequisites
For workshops classed as "Intermediate" category, it is recommended that those wishing to participate should have some familiarity with the operation of GNU/Linux server, and have minimally configured such a system.


 
Server Administration
This intermediate workshop is aimed at those wishing to progress towards achieving the skills needed to maintain and manage a GNU/Linux server. On completion, Delegates will be able to create a structured server capable of supporting multiple users, at various levels of security, through local or remote logins or through an intranet set-up under Apache. They will be able to configure a file and printserver for cross-platform use, and learn how to automate maintenance by creating timed events. This workshop covers some elements included in the Linux Professional Institute's (LPI) Levels One and Two courses.

You will learn about:


User administration - creating additional users.
Creating groups.
Permissions and security.
Host Names & IP Addresses.
Initialisation and start-up schemes.
Automating things - basic scripting.
Crontabs - setting-up automated timed events.
Network administration - basics.
Apache webserver - setup.
Printer administration and set-up.
Connecting to the Internet - Modems and ADSL.
Remote access - secure shells, FTP server.


This workshop would be suitable for those with some understanding of a GNU/Linux system who wish to expand their understanding of such a system's capabilities. On completion, attendees should be able to deal with all of the normal operations of an in-house or co-located server.

For those who wish to extend their stay further, this workshop could be coupled with LCO's "Linux Server Networking" workshop.


 
 
Web Design & Management
This intermediate workshop is aimed at those with a desire to fast-track learn the skills needed to create and manage their own, or their company's web site. It also provides an introduction to web terminology and is consequently suitable for anyone needing the background knowledge to decrypt jargon when liaising with professional web developers or designers.

You will learn about:


The Internet - as a Global Marketplace.
Planning Concepts, Web Content and Navigation.
In-depth HTML Scripting to include Tables, Frames and Images.
Colours, Text Layout and Graphical Design hints.
Available Software/Utilities for construction of web pages.
Adding Links to other pages and sites.
Website Tips and Tricks.
Graphic Manipulation and Image Optimisation methods.
Templating and CSS Stylesheets.
Javascript basic concepts.
Search Engines - Are they important?
Promotion of websites - How to increase website usage through Meta Tags.
FTP (file transfer protocol) - How to upload files to your web space.
Assessing site performance.


This workshop provides an overall knowledge of website construction. By the end of their stay, delegates will have gained the necessary skills to create a well-structured, optimised website containing the primary components required to make it easily navigable and effective.

In addition, this workshop also provides insight into areas of website maintenance, marketing and management.


 
 
Audio/video & Multi-media
This Intermediate Workshop is for those who wish to master devices, such as webcams, sound devices, DVD Movie players etc. on their GNU/Linux installation.

The course demonstrates the techniques of digital re-mastering and sound mixing with Audacity, Lame and Grip, provides an understanding of using Xine, Mplayer or Kaffeine for playing DVD movies and gives the ability to use software to burn CD's/DVD's with confidence.

Quality sound applications using GNU/Linux often depend on the usage of the JACK sound server. This provides the back-end required to control sound cards in a sophisticated way that enables the use of synthesizers, sampling, filtering and effects.

Because of the differences in the way that the Linux Kernel versions support various drivers, this workshop includes such topics as researching suitable drivers for your hardware, and compiling software for audio tasks.

You will learn about:


Burning CDs and DVDs
Linux sound systems - ALSA, pulse-audio
Compiling Xine or Mplayer with codecs to allow playing of DVD movies
Basics of digital sound re-mastering and mixing techniques using Audacity
JACK sound-server, Synthesizers, LMMS, MPD etc.
use of audio/music/video editing applications



 
Advanced
Prerequisites
Workshops considered as "Advanced" require participants to be experienced in the concepts and usage of GNU/Linux systems and networking.


 
Linux Server Networking
This advanced workshop provides a deeper understanding of networking GNU/Linux systems. It allows participants to expand their knowledge in areas covering local intranet construction and maintenance and allow seamless intercommunication between various platforms.

This workshop also addresses two of the most critical areas relative to wide area networking - security / firewalling and the set-up of a domain name server (DNS) and Bind which enable Internet inter-active programmes such as e-commerce and e-business. This workshop covers many elements included in the Linux Professional Institute's (LPI) Level Two course.

You will learn about:


Network Overview - Internet, Intranets and Extranets.
Static & Dynamic Addressing, DHCP.
Local Networks - NIS, NFS and Samba.
Sharing and exporting directory and file structures.
Structuring and Configuration of the Apache Webserver.
Installation of MySQL and php modules for Apache.
Virtual Hosting on Apache.
Serverside scripting, cgi basics and perl.
DNS and Bind.
Email and Mail Servers.
Security matters / Firewalling.


Aimed at those who would like to extend their knowledge of how server technology and web technology combine to allow dynamic and interactive global communication by end users. It could be a follow-up to our Server Administration workshop for those who wish to extend their visit across two weeks.


 
 
e-Commerce Applications
This advanced level workshop concentrates on e-commerce applications using fast templating, php programming and MySQL database functionality.

Use your holiday to advantage, bring along your ideas for a website and take home all the building blocks you'll need to construct and manage your own dynamic site.

Overview:

An increasing number of companies are seeing the Internet as a major source of business. Internet trading requires that an e-commerce web site be set up to enable customers to chose products and to purchase goods via credit card transactions. PHP is a server side web content generation language which can be used in conjunction with a MySQL database to implement a fully functional e-commerce web site. This workshop provides in depth training in the configuration and programming of PHP. The laboratory exercises will use PHP to build the components necessary for a fully functional e-commerce web site, hosted on an Apache web server with PHP support.

This advanced one week workshop is for those who would like to expand their understanding of back-end web technologies. A working knowledge of UNIX/Linux is required, including file handling commands and the use of a text editor. Some experience of website scripting and a working knowledge of basic SQL would be advantageous.

You will learn how to:


Set up under Apache, a website on Linux with PHP and SSL support.
Create a fully functional e-commerce web site complete with shopping cart.
Create secure order forms and order tracking.
Write dynamic server side web content using PHP.
Use the PHP database commands to store data into and retrieve data from a MySql database.
Implement a protected web site login mechanism using PHP.



 
 
Electronic Design CAD
This workshop provides the skills needed to work with the techniques needed to work with electronic design software under GNU/Linux.

KiCAD is a complete environment for the design of electronic circuitry from schematic drawing, through netlisting, to layout design and Gerber processing for the manufacture of printed circuit boards.

This course requires a working knowledge of electronic circuitry, components, etc, and is primarily intended for those wishing to be able to design and prototype electronic assemblies from scratch.

Although the KiCAD package has considerable documentation to assist the learning process, however, with hands-on guided usage, the required skills can be acquired more rapidly.

You will learn:



How to use the schematic editor to draw circuit diagrams.
How to use the layout editor to design PCBs.
How to use symbol and component libraries.
The operation of netlisting for the transfer of schmatic to layout.
Assigning and referencing components.
Using netlisted components during the layout phase.
How to draw electronic symbols and create libraries.
3D visualisation of PCBs.
Using multiple schematic sheets on one layout.
Creating of Gerber files for manufacture of your designs.




 
 
Dynamic Webserver Design
This intense workshop provides a detailed understanding of the operation of dynamic, interactive portal web sites, php, back-end databases, templating and stylesheets. It also provides an insight into web security.

It is aimed at upskilling those with knowledge of static web design by providing the fundamentals needed to bring interactivity, styling and other useful modern techniques to their portfolios.

This workshop covers CodeIgniter, an Application Development Framework - a toolkit - for people who build web sites using PHP. Its goal is to enable you to develop projects much faster than you could if you were writing code from scratch, by providing a rich set of libraries for commonly needed tasks, as well as a simple interface and logical structure to access these libraries. CodeIgniter lets you creatively focus on your project by minimizing the amount of code needed for a given task.

You will learn about:


How to set-up a suitable server using the apache webserver with PHP and MySQL
Installation of phpMyAdmin to monitor the MySQL Database.
Installation of the Code Igniter development framework and documentation.
The concepts usage of PHP and MySQL to allow user interactivity on a website.
PHP and MySQL commands, and use of reference documentation.
Interactive web coding.
An Introductiion to the Model-View-Controller approach, used by Code Igniter, to facilitate separation between logic and presentation.
How to query and generate results from the MySQL database using Code Igniter Active Record Class.
Familiarity with Code Igniters URL, HTML, and Form Helpers.
Security Issues and Data Protection.
Construction of a dynamic website using the CodeIgniter Framework


The course aims to provide a fully comprehensive understanding of interactive and dynamic website creation using the CodeIgniter API.


 
 
3D-Worlds OpenSimulator
Open Simulator is a server application that runs a 3D-World on a networked or online server.

This workshop details the hardware/software requirements for a suitable machine and guides you through the set-up of viewers to access the application.

Creating an OpenSimulator server and then designing your 3D world is a complex, longterm but rewarding occupation. The course provides an overview of the steps needed. You will master the construction tools built into the viewer to create your 3D world and learn about prims and how to texture objects plus how other applications such as GIMP and blender fit in. You will also discover how to install lsl scripts to bring life to otherwise static objects.

3D Worlds are an ideal environment for those with IT experience to share their knowledge with others. Viewed from both sides, they are therefore a perfect environment for those who wish to learn and improve themselves hands-on, under the guidance of others with more experience.

Just read on to see just some of the skills a person might choose to develop in a 3D World. Most people tend to select one or two areas of interest and then go on to develop their knowledge in these areas. This list is far from complete.


Creation of 3D Objects (Sculptys) using "Blender".
Creating digital art using Gimp or Paintshop Pro.
Terraforming and landscaping land.and water.
Creation of avatar skins and body shapes.
Designing clothes, tattooes.
Making fashion accessories, hair, jewellery etc.
Developing business management skills.
Building Objects using the in-viewer tools.
Animating objects using the LSL Scripting Language
Reproducing public buildings, Making Art Galleries.
Learning how to speak in Public.
Communication and working as a team member.


Whilst full-knowledge of this subject can only be learned though much hands-on experience, this workshop aims to give a substantial grounding into 3D-world creation and administration.
 
 
VoIP, PABX and Wireless
Recent Open Source developments in SIP telephony have come up with some interesting and highly cost-effective options for organisations small or large who wish to install an efficient PABX system which utilises Voice over Internet Protocol (VoIP) technology.

If you want a secure wireless system in your home, office or headquarters that will enable your family or your staff to connect to the outside world via wireless, this workshop is for you. Of course opening your Internet connection via wireless will bring its own security problems. At the same time, we'll show you how to protect your personal network from intrusion and your bandwidth from unauthorised use.

On this Advanced workshop we'll take you through the technology and let you see for yourself how GNU/Linux and Open Source software deals with these two cutting edge technologies.

You will learn about:


Use and installation of SIP phones under X-windows.
Compiling and installing the Asterisk PABX System.
Fundamentals and basic configuration of Asterisk
Other VoIP options under GNU/Linux
An introduction to wireless networking.
Configuring Wireless Access Points.
Security on the Server.
Protection of personal files and bandwidth



 
To see further details of Workshop dates and availability, please visit the BOOKING pages.
Guest speakers will be invited to attend selected advanced workshops.
As places on all workshops are limited, it is advisable to book early so as to avoid disappointment!
Certain workshops will be synchronised to local festivals in the region.
Open Source resources
- Information about Open Source related distributions and software.